Two tons of horse, knight and armor gallop onto the field prepared to do battle with ten-foot lances for a lady's honor. And when the joust is done, you can visit the "The Royal Stables" and meet your champion from the era of chivalry. Jousting is held three times daily in the King's Tournament Arena. Continue reading...
Eat, Drynk and Be Merry
A variety of food and drynk is available to satisfy your appetite; bread bowls, stews, steak-on-astake, and so much more. In the midst of this enormous feast you'll find the king of festival foods- the huge roasted turkey leg.
Tempt your diet plan with desserts fro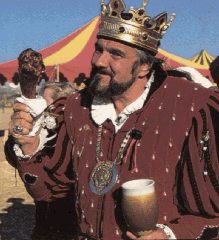 m the Monk's Bakery, the Cappuccino Inn, or the Chocolate Shoppe. Pubs serve beers, wine and soft drynks to quench your thirst.
A most special event within this giant event is The Pleasure Feast.
This is a two hour six course medieval feast with live music and comedy entertainment, all you can eat and drink, plus festival gifts and souvenirs.
With limited seating twice daily, advance feast reservations are recommended. Call 520-463-2700 for more information on The Pleasure Feast.
KIDS OF ALL AGES ENJOY THE ROYAL FAIRE
And kids love this place! Dozens of activities bring out their smiles. A Festival favorite with children is Mother (and Father) Goose brought to life, with their costumed ducks and geese, Maggie, Mimi and Matilda. Kids will cheer for their favorite knight or try their hand at archery.
Children delight in the return of a falcon, the king of sports, at the Falconer's Heath. Kids also, love riding the people-powered Da Vinci's Flying Machine, the Swan Swing, Christopher Columbus' "Voyage to the New World", the Slider Joust, as well as, the Piccolo Pony, a rocking horse bigger than an elephant.
In addition to the people-powered rides, the Festival offers interactive games like the dragon climbing tower, the castle siege, Jacob's Ladder, a maze and an archery range. Kids will surely be asking for a hat, wand, wooden sword, shield, or to have their face painted, or to make a sand dragon, along with other items available for purchase at the Festival. What's more, kids will marvel at the tightrope antics of Dexter Tripp. Those bolder of heart may feed the dragon or play king of the log.
Mythic heroes slaying dragons, steel clad warriors jousting atop mighty steeds and knights in shining armor saving damsels in distress…this can all be found at the AZ Renaissance Festival. There is definitely something for the children and the kid in all of us to be found at the faire; experience your best day out in history!
Arizona's annual renaissance festival is one of the largest in the nation. The ARF is held on weekends in February and March in its fanciful European style village constructed on a 30-acre site just below the foothills of the Superstition Mountains, east of Phoenix, AZ. This is where you'll find theater, circus, an arts and crafts fair, a jousting tournament, people-powered rides, and a feast – all rolled into a nonstop, day long family adventure!

---
---
© 1995-2015 Arizona Renaissance Festival EMOLorg Entertainment Magazine. sAll rights reserved.