Styling Tucson's Hair the European Way
---
VASILE HAIR WEB COUPON
SAVE 20% OFF Styling and other Services. Call for Appointment at 298-4247 and Mention 20% OFF Web Sale. Cannot be combined with any other offers. New customers only. One time use only. Expires 9/30/15.
---
Vasilé European Salon
6923 E. Broadway Blvd.
Tucson, Arizona 85710
520-298-HAIR (4247)
European Style by Vasilé– owned by husband and wife Stan and Lydia Vasilé– has been styling hair at the same Tucson eastside salon, near Wilmot and Broadway, for more than two decades.
Stan and Lydia Vasilé have been caring for hair throughout the world with European hairstyling that achieves hairdos to fit your face, hair type and lifestyle. The Vasilés hair salon in Tucson also specializes in treating, conditioning and maintaining baby fine hair. Read more about Vasilé hair, nails and skin services.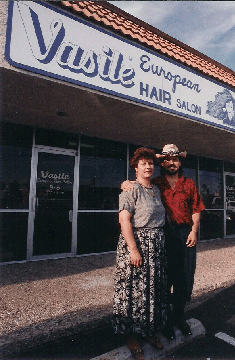 The Vasile Hair Salon was named the 1998 Consumer Business Review's Award Winning Hair Salon Styling Artist in Arizona. In 1995, Vasile was chosen as the finest hair salon in America.
Stan Vasilé has studied the popular hair design techniques in France, Germany, Italy, Japan, Austria and Great Britain. Lydia has been styling hair and nails with decades of experience and talent. The Vasilés have won many European medals for their top hair styling techniques. Stan's unique approach to hairstyling has been considered to be among Europe's best. See more trending 2015 hair styles.
Choose and print out a hair style and bring it in to Stan or Lydia. Browse Your New Hair Style from the Vasile's Tucson Hair Gallery.
Stan Vasilé has cut and styled hair for famous celebrities such as Sophia Loren, Julio Iglesias, Paul Rodriguez and Nadia Comanici, and other stars. See the Vasile's Celebrity Album of local and national celebrities.
So many Tucson beauty salons come and go, but the family-owned and operated Vasile European Hair Salon has been a tradition in Tucson for decades. Meet the Vasilé family.
The Vasilés offer FREE HAIRSTYLING ADVICE & TIPS during your appointments!
Award-Winning Haircuts, Styles, Color, Highlights, Body Wave and Hair Salon Services in Tucson, Arizona
Vasilé Hairstyles & Services
Vasilé in the News
New 2015 Styles by Vasilé


Long layers and mixed colors, open movement of hair foward and back– just shake your head. Trending hair style among young people this year.
Vasilé's curved sissors and European design enhance styled medium layers. Lean slightly forward, shake your head, your hair bounces. Bring your chin forward and your hair will say "va-va-voom!" Ooh, Vasilé!!
Vasilé Dreaming In America
Stan Vasile had a dream like his dad. He decided to move to a bigger country, to do his best for his family, to do better in his business. In 1980 his dream came true. They moved to the most powerful and beautiful country in the world– America.
Read Stan Vasile's story of "Dreaming In America."
Read "Our Journey to America: The story of the Vasilé Hair Salon in Tucson
Vasile's Hair Care Services
European Styling Conditioning
Perms
Waxing
Highlights
Facials
Sculpture Nails
Pedicures
Nail Art
Tanning
Specials on Hair Products
Beauty Salon Supplies
specializing in products for fine, oily and normal hair
Rent A Station: Weekly, Monthly
Call 298-4247
More than 15 years at the same location!
Stan and Lydia use and sell products as Redkin, Paul Mitchel, Peter Hantz, Phyto, Sebastian, Graham Webb, Joyco, Itel, Back to Basics, Graham Webb, Sorbie, Biolange, Rusk, Matrix, Biosilk, nioxin, Nolita, Bodacious, and Dureology- luxury color care. Used by celebrities. Used by Vasile.
Vasile is the official hairstylist for Entertainment Magazine.
---
---
© 1995-2015 Vasile/EMOL.org. Entertainment Magazine. All rights reserved. emol.org/vasile