by Steve Savedow.

Although it is comprehensive and has translations of the text, there has been controversy over Savedow's translations. It is a good starting point if you can't read Hebrew.
How to study Sefer Raziel
The information contained in the Book of Secrets is not easily revealed. Like most Qabalistic texts, there are riddles and puzzles to figure out to understand the true meaning.
When you study the book in English realize that the translation is based on the understandings of our culture and time- far removed from when the book was originally composed.
If you have a Hebrew edition, see the translation suggestions to translate it for yourself. You will learn much more about Raziel's secrets when you study the original Hebrew words.
Descargar sepher de raziel. Download free Sepher Raziel.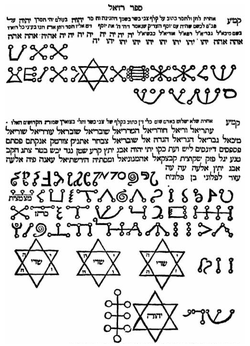 Another good source of background information is (link to Amazon.com). See Kabbalah: Selections From Classic Kabbalistic Works From Raziel Hamalach To The Present Day.
This book on Kabbalah gives excerpts from the major Kabbalistic works — the ancient texts to the recent insights of the chassidic masters — together with fascinating biographical sketches of the great Kabbalists. A short chapter covers Sefer Raziel, but the rest of the book covers the wide subject of the Kabbalah.
Another option is to download a free copy of Sefer Raziel. This is a short, public domain, version of the manuscript in English.
If unable to download a copy of the Hebrew Sefer Raziel text, Amazon.com has a 70 page copy of the Hebrew edition in paperback called Book Raziel Hamalach.
On the download page are instructions to find free translation tools on the Internet. You do not have to know how to read Hebrew since these web-based translators do it for you.
Update on the Virtual QBL Kabbalah software project and filmemaker database
---
---
Copyright by Robert Zucker © 1995-2014
No part may be copied, reproduced, republished or digitally stored without permission from author.
Visit the Kabbalah Shoppe
Kabbalah Books on Amazon
These are the most popular books on Kabbalah from Amazon.com. They are selected because they are easy to read and easy to understand.
---
Rabbi Finkel introduces and translates excerpts of four classic ancient texts, Raziel HaMalach, Sefer Yetzirah, Sefer HaBahir, and Sefer HaZohar. The next 350 odd pages are devoted to the introduction and translation of the works of individual kabbalists classified into: the Kabbalists of Spain, Italy, and Province; the Medieval European Kabbalists; the Kabbalists of Eretz Yisrael; European Kabbalists of the Seventeenth and Eighteenth Centuries; Kabalists of the Chassidic world; and Kabbalists of the Twentieth Century. Excerpt from Amazon.
(Paperback) From Amazon: A kabbalistic book that is considered by many throughout history to bring good luck to its possessor. Paperback: 70 pages. Publisher: P Shalom Pubns; Hebrew edition (June 1970). Language: Hebrew. This book may still be out of print. See the book above for another translation. Language: Hebrew.
by Steve Savedow (Editor)
Search inside this book on Amazon.com. The first English translation from ancient Hebrew of the rare and complete 1701 Amsterdam edition, of this famous magical text. According to Hebrew legend, the Sepher Rezial was given to Adam in the Garden of Eden, by the hand of G-d. The myth suggests that this diverse compendium of ancient Hebrew lore was the first book ever written. Includes an explanatory text on the holy names of God, the divisions of Heaven and Hell, and the names and hierarchy of the angels and spirits. Paperback: 302 pages. Publisher: Weiser Books (December, 2000). Language: English.
This volume also includes a foreword which offers an overview of Raziel manuscripts, which represent a number of independent traditions, an essay on the literature of Solomonic magic in English, an introduction to the Sepher Raziel manuscript presented, an appendix on incense nomenclature as a supplement to Tractatus Thymiamatus, a list of printed notices and manuscript sources of Sepher Raziel, and a full bibliography of printed works on Solomonic magic and items of related interest. 296 pages. Publisher: Llewellyn Publications (September 8, 2010).

Read any website or page of text in any language.
Babylon is the leading provider of online and offline single-click dictionary and translation solutions. Download free Babylon translation.